Workflow Tool
Accelerating user adoption by over 50% for a key time-saving feature.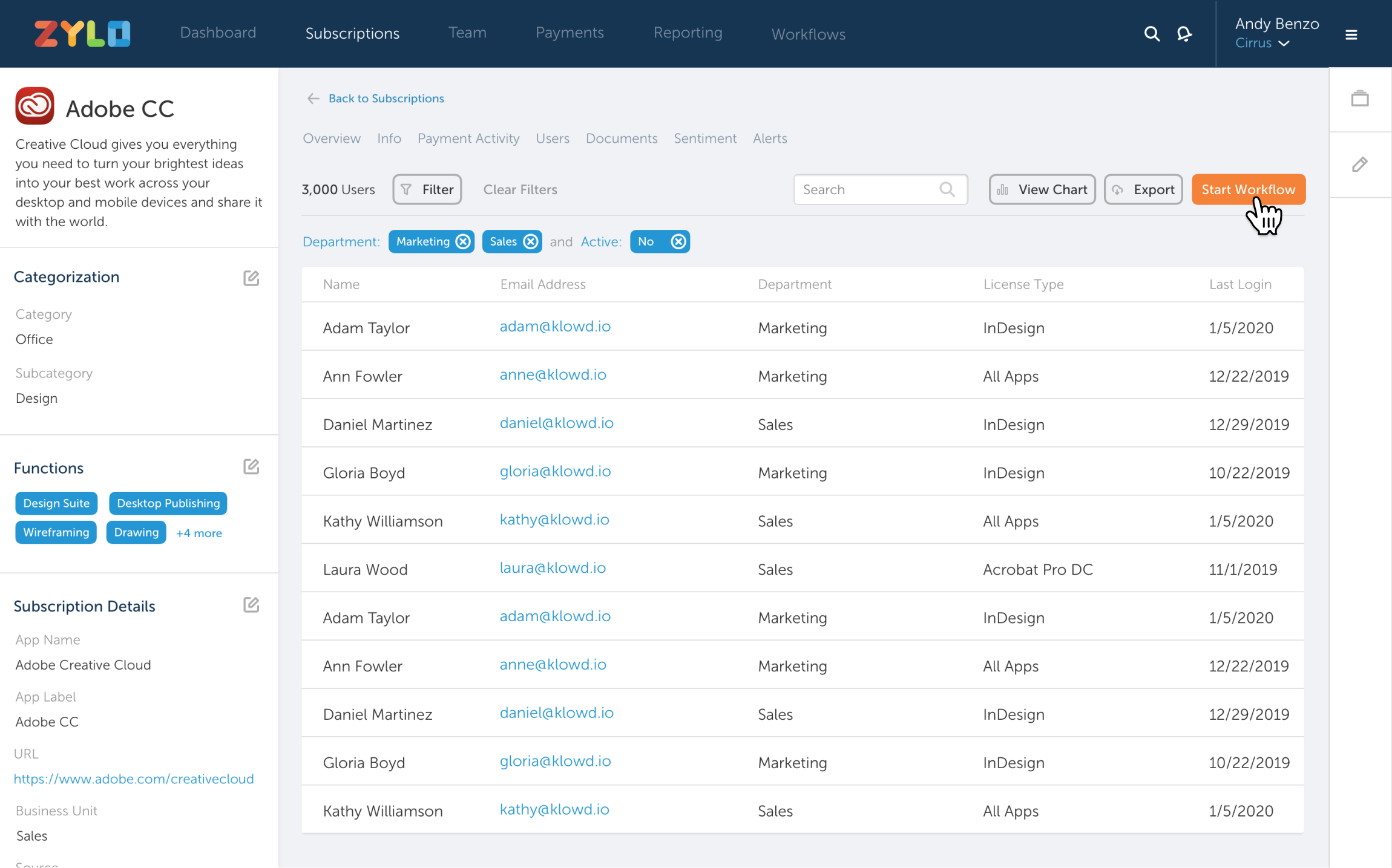 Background
Zylo's mission is to empower IT professionals within their organizations to unlock the full value of their SaaS investments by controlling spend, managing risk, and improving the employee experience.
Workflows are the main value-driving action in Zylo. They allow IT professionals the ability to measure employees' software usage and determine whether or not they need an expensive software license or not, in turn saving them thousands each year on unused licenses.
Goals
Increase trust in the workflow emails sent to employees

Improve task completion rate of launching a workflow

Improve overall adoption of workflows
My role
The Problem
The challenge with workflows in 2019 was that 📉 adoption was non-existent and customer service representatives were still performing all workflows in the tool on behalf of clients.
Basic feature limitations and usability were barriers to entry to get our customers to use this tool. I worked to identify and prioritize those issues with a product manager and prioritize the most optimal experience.
Zylo users are IT professionals at large enterprise organizations managing the software lifecycle for their employees. Zylo helps them manage this stack and their software renewals.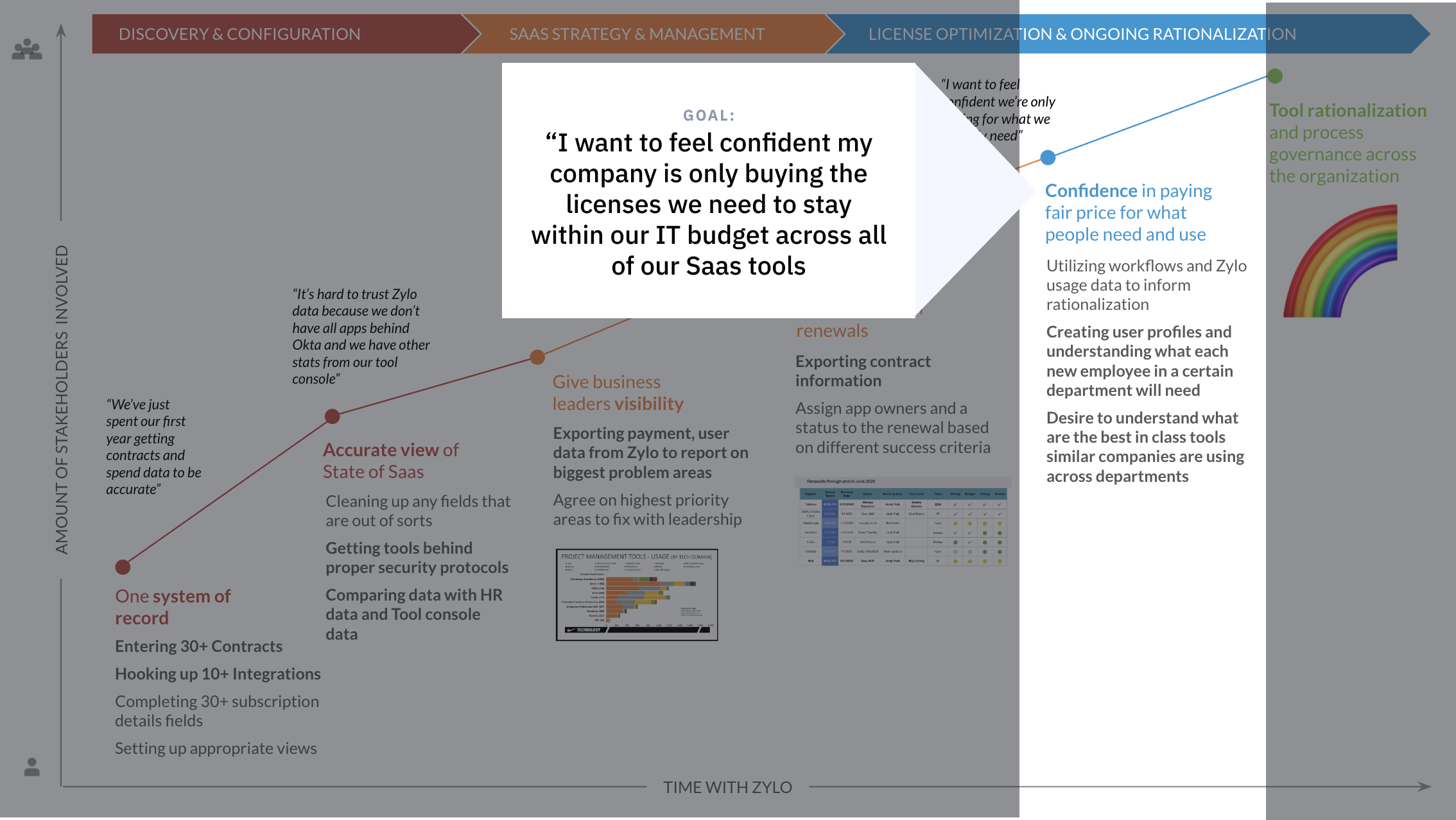 Additional experience challenges
License notification emails from Zylo appeared like spam
When users were preparing for their license renewals, emails would get triggered to employees and their branding would often look like spam.
💡 Opportunity: Allow the user to alter their emails to look like their company.
Inability to obtain timely response from employees
The current workflow sending tool only allowed for one message to be sent to an employee, and it often ended up at the bottom of their inbox.
💡 Opportunity: Allow the user to send follow-up emails.
Lack of flexibility in filtering employee criteria
One of the main reasons workflows were unusable was due to the unflexible filtering requirements and many different criteria IT organizations choose to remove licenses.
💡 Opportunity: Allow the user to filter by many different criteria to create an employee email list.
The Process
I kicked off this project exploring the opportunities above to make the tool usable. From there, I led a user testing plan which would shape how we further enhance the user experience.
My process:
Exploring early opportunities for improvement

User testing the first release of updates release while they were being implemented

Iterate experience design based on user feedback

Suggest launch plan for future releases
1. Exploring early improvements
The first batch improvements were designed to help users feel comfortable actually using the tool and sending license retrieval emails to their employees.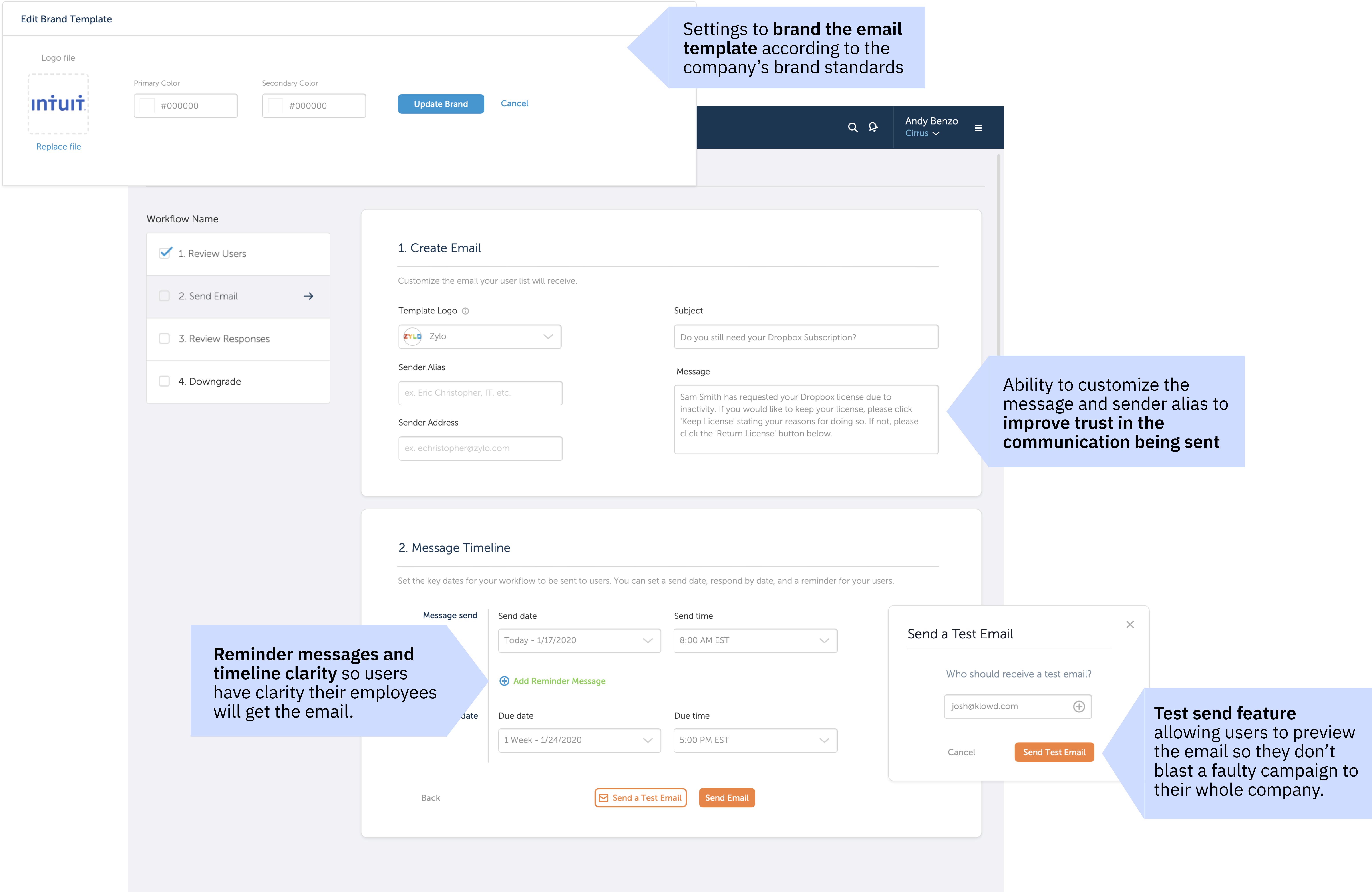 2. User testing the overall workflow experience
The first batch of improvements were following many customer requests focused on fixing the email and trust issues. I knew that improving emails was only a fraction of the workflow experience, so I suggested a testing plan which would fuel more insights into improving the workflow experience.
Testing goals
Understand the challenges of the renewal process

Identify users' starting point for workflows

What other barriers are there to completing a workflow successfully?
Key findings
After the interview / test sessions, I hosted sessions with the PM and myself to collaborate on findings and the following themes:

3. Iterate experience design based on feedback
After converging with my product manager and engineering manager, it was clear that to eliminate the drop-off of users completing workflows, we would have to improve user filtering at the touch-points where customers are most likely to convert to using a workflow.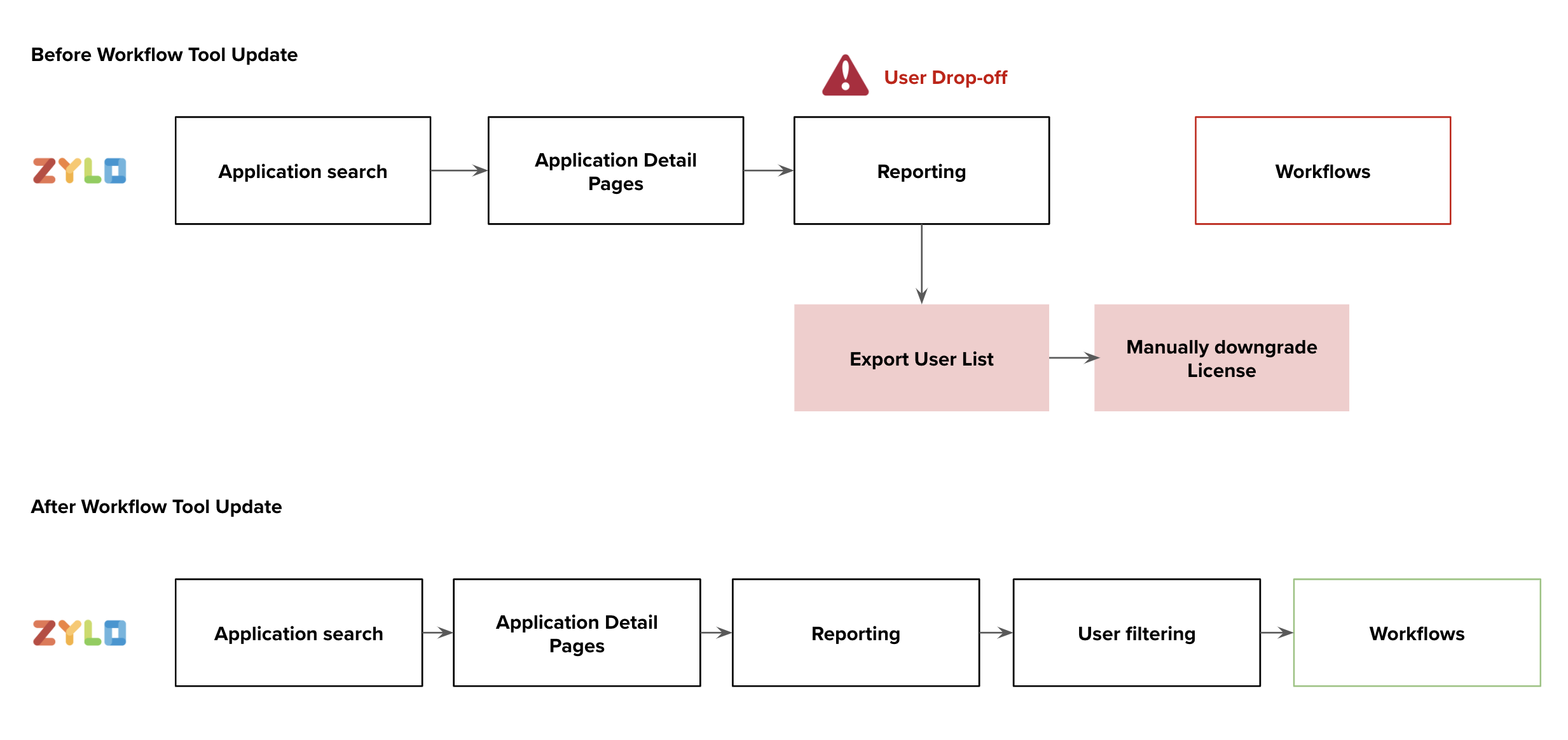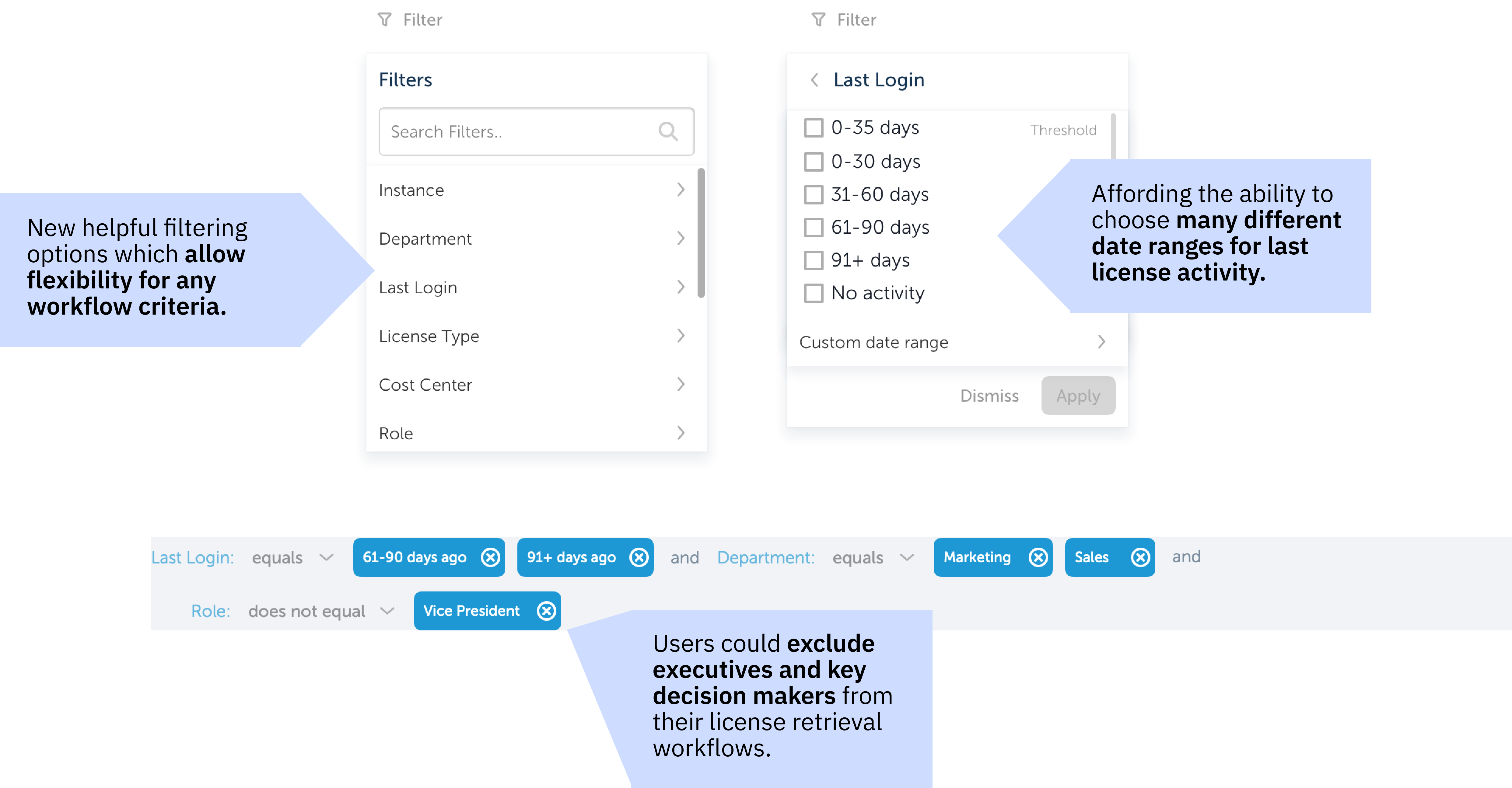 Accurate filtering
Previously, IT managers could only filter their employees by a static activity threshold (usually indicating past 30 days activity). With the new improvements, I designed new filters which give users the flexibility they want when qualifying employees for workflows.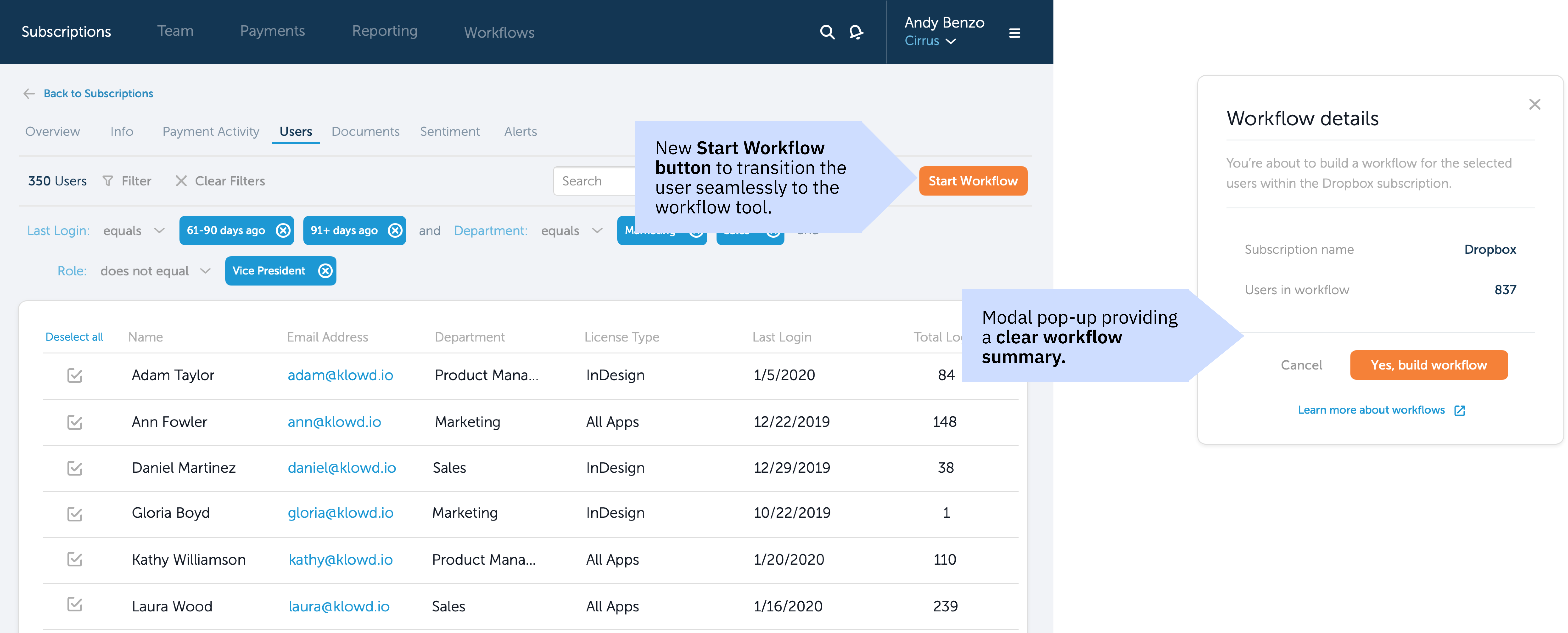 Start workflow transition
With the new 'Start workflow' button, the user can investigate their employees with filtering and then add them to a workflow straight from the users table.
50
More workflows launched within 30 days
100%
Improvement in task completion
Lessons learned
Invite your stakeholders to customer research sessions. I was fortunate enough that my PM was very bought into this process and wanted to talk with customers. He gained immediate empathy on their experience and ideated alongside me on how we could improve their task completion rate.

This was just a building block of a large initiative. We had to open the door for people to use this tool, but it fueled many other ideas for enhancements such as filtering all your Saas tools at once and orchestrating more than one workflow at a time to handle a large volume of renewals.